CeraVe® Hydrating Cleanser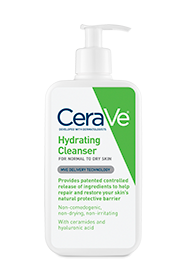 CeraVe®  Hydrating Cleanser. CeraVe® Hydrating Cleanser gently cleanses the skin while helping to maintain the right moisture balance. These products are fragrance-free, non-irritating and non-comedogenic.
Seal of Acceptance Rating: 4 out of 5 * * * * 
This product may contain potential irritants at concentration levels thought to be insignificant for most patients. Manufacturer has provided extensive testing and sensitivity data to determine acceptability. These ingredients include the preservatives methylparaben and propylparaben.
For more information, please visit www.cerave.com