Cetaphil® RESTORADERM® Eczema Calming Body Wash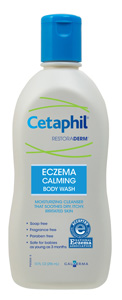 Cetaphil®  RESTORADERM ® Eczema Calming  Body Wash soothes, restores and moisturizes to help alleviate the dryness and itching associated with eczema and atopic dermatitis. RESTORADERM® products are fragrance free and clinically proven to be non-irritating and non-drying to the skin of people with atopic dermatitis and eczema.
Seal of Acceptance Rating: 4 out of 5 * * * * 
This product contains Methylisothiazolinone. This ingredient is a potential irritant at concentration levels thought to be insignificant for most patients. This product may contain known allergens that may cause reactions for some food allergic patients. This product contains Butyrospermum Parkii (shea butter) and Helianthus Annuus (sunflower seed oil). These are rare allergens, and may be of concern as it relates to food allergies. Galderma Laboratories states that the manufacturer of the sunflower seed oil certifies that the oil is refined. Since the allergenic moieties are thought to be in the protein, NEA notes the absence of such in the component used for the Cetaphil® RESTORADERM® Moisturizer.
For more information, please visit www.cetaphil.com