Neutrogena® Ultra Gentle Hydrating Cleanser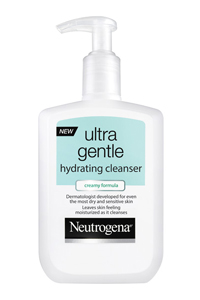 Neutrogena® Ultra Gentle Hydrating Cleanser is an effective, yet extraordinarily mild cleanser formulated with a skin nourishing polyglycerin formula that helps hydrate and protect skin while it cleans. It's fragrance free, and ideal for dry, sensitive skin. In fact, it's so gentle that it's safe on even the most sensitive skin conditions, such as eczema and psoriasis. Ultra Gentle Hydrating Cleanser effectively cleanses, gently removing excess oil, dirt and makeup, and leaves skin clean and feeling moisturized for naturally soft skin every day.
Seal of Acceptance Rating: 4 out of 5 * * * *
This product contains potential irritants at concentration levels thought to be insignificant for most patients. The manufacturer has provided extensive testing and sensitivity data to determine acceptability. The ingredient is Ethylhexylglycerin.
For more information, please visit www.neutrogena.com