Halo® ComfortLuxe® Sleepwear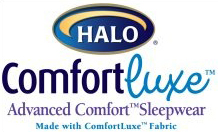 Halo® ComfortLuxe® Sleepwear.  HALO®'s advanced comfort sleepwear made with ComfortLuxe® fabric is a breakthrough in infant comfort and healthy skin. HALO® offers a full line of sleepwear for children from birth to size 4T, with innovative ComfortLuxe® fabric to help keep baby dry and comfortable all year long.
Seal of Acceptance Rating: 4 out of 5 * * * * 
ComfortLuxe® fabric is known to dry quickly and keep the skin cool. Clinical trials have not been performed in atopic dermatitis patients.
For more information, please visit www.halocomfortluxe.com