Albolene® Moisturizing Cleanser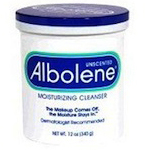 Albolene® Moisturizing Cleanser is an effective and gentle makeup remover that also provides great moisturizing benefits. Albolene® contains mineral oil, petrolatum paraffin, ceresin and beta-carotene. Used immediately after the bath or shower, Albolene® is a good occlusive preparation to seal in the water and hydrate the skin.
Seal of Acceptance Rating: 5 out of 5 * * * * *
This product does not contain known irritants to eczema or sensitive skin.
For more information, please visit www.albolene.com