Glaxal Base® Moisturizing Cream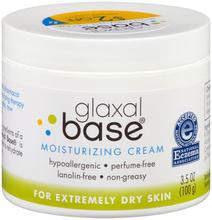 Glaxal Base® Moisturizing Cream is t the No. 1 physician and pharmacist-recommended moisturizing therapy for dry skin in Canada, is now available in the U.S. at Walmart. Using the simple ingredients of a base cream, Glaxal Base® is specially formulated to rehydrate extremely dry skin. Hypoallergenic. Perfume-free. Lanolin-free. Non-greasy.
Seal of Acceptance Rating: 5 out of 5 * * * * *
This product does not contain known irritants to eczema or sensitive skin.
For more information, please visit www.glaxalbase.com