Gold Bond® Ultimate Eczema Relief Skin Protectant Cream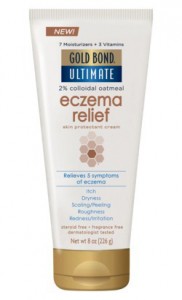 Gold Bond® Ultimate Eczema Relief Skin Protectant Cream gives you fast itch relief, while Vitamin E, aloe and a combination of 7 moisturizers and 3 vitamins, soothe your eczema discomfort. In fact, in a clinical study 8 out of 10 eczema suffers said they saw and felt significant skin improvement, including significant relief from scaling/peeling, roughness and dryness – in just two weeks.
Seal of Acceptance Rating: 4 out of 5 * * * *
This product contains ingredients that may be of concern as it relates to food allergies and skin sensitization. These ingredients are aloe, avena sativa (oat) kernel extract, bisabolol (chamomile), colloidal oatmeal, jojoba esters, shea butter, and ginger root extract.
This product may contain potential irritants at concentration levels thought to be insignificant for most patients. The manufacturer has provided extensive testing and sensitivity data to determine acceptability. These ingredients include the preservatives methylparaben and phenoxyethanol.
For more information, please visit www.goldbondultimate.com