Hydrolatum®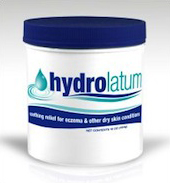 Hydrolatum® provides serious relief for seriously dry skin. Hydrolatum®'s soothing formulate creates a protective barrier on the skin's surface, locking in moisture and locking out irritants. Apply sparingly to affected areas, as often as needed. Ideal for sensitive skin!
Seal of Acceptance Rating: 4 out of 5 * * * *
This product may contain a potential irritant at concentration levels thought to be insignificant for most patients. Manufacturer has provided extensive testing and sensitivity data to determine acceptability. This ingredient is methylparaben.
For more information, please visit www.hydrolatum.com