Triple Cream®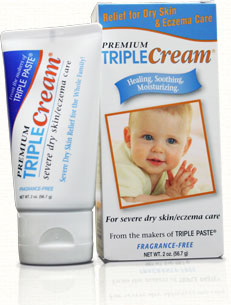 Triple Cream®  is from the makers of Triple Paste, Triple Cream Eczema Care is a premium formula for baby's severe dry skin. The fragrance free formula provides soothing relief for baby eczema.
Seal of Acceptance Rating: 4 out of 5 * * * *
This product may contain potential irritants at concentration levels thought to be insignificant for most patients. Triple Cream® contains benzyl alcohol identified by the Environmental Working Group's SKIN DEEP cosmetic safety database as a moderate hazard at low doses and sorbitan sesquioleate identified as a low hazard in moderate doses. This product also contains oat (avena sativa) extract, which may be of concern as it relates to potential food allergies, but is thought to be unlikely; no testing data exists.
For more information, please visit www.triple-cream.com