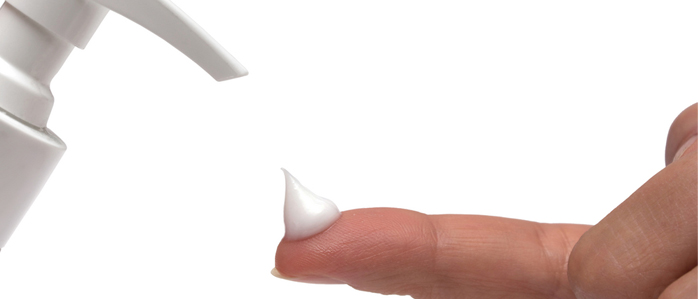 Eczema is a chronic recurring skin disorder that results in dry, easily irritated, itchy skin. There is no cure for eczema, but good daily skin care is essential to controlling the disease.  When your skin is dry, it is not because it lacks grease or oil, but because it fails to retain water. For this reason, a good daily skin care regimen focuses on the basics of bathing and moisturizing.
Wind, low humidity, cold temperature, excessive washing without use of moisturizers, and use of harsh, drying soaps can all cause dry skin and aggravate eczema.
HOW DO I TAKE CARE OF MY DRY SKIN?
The most important treatment for dry skin is to put water back in it. The best way to get water into your skin is to briefly soak in a bath or shower and to moisturize immediately afterwards.  Use of an effective moisturizer several times every day improves skin hydration and barrier function. Moisturizer should be applied to the hands every time they are washed or in contact with water.
Some dermatologists recommend that you perform your bathing and moisturizing regime at night just before going to bed. You are unlikely to further dry out or irritate your skin while sleeping, so the water can be more thoroughly absorbed into your skin.
If you have hand eczema dermatologists recommend that you soak your hands in water, apply prescription medications and moisturizer (preferably an ointment), and put on pure cotton gloves before going to sleep.
Click here for videos on proper skin care.
WHAT DOES MOISTURIZING DO?
Moisturizing improves skin hydration and barrier function. Moisturizers are more effective when applied to skin that has been soaked in water.
IF I AM ON PRESCRIPTION DRUGS FOR MY ECZEMA, DO I STILL NEED TO MOISTURIZE?
Basic skin care can enhance the effect of prescription drugs, and it can prevent or minimize the severity of eczema relapse.