Susan
An Adult Perspective
I have suffered from lifelong asthma, allergies, and problems with dry skin. However, I never had a problem with eczema until I was pregnant with my daughter 20 years ago. Along with the expected symptoms of pregnancy, my allergies and asthma grew worse and eczema covered my body. I remember itching for nine months. I never slept, I developed skin infections, and I had bloody raw skin from all of the scratching. One often talks about the "glow of pregnancy;" I had the glow of red inflamed skin. It was my hope that after my daughter was born my eczema would go away, but unfortunately it did not.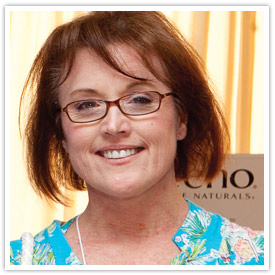 For many years I searched for a cure for my eczema. I have been seen by many allergists and dermatologists, haveparticipated in clinical trials for new medications, have been hospitalized for skin infections, and have spent too much time and money on medications and treatments that have not worked. I sought out the top professionals at the National Jewish Hospital and the mayo Clinic for help with my eczema. Eczema impacted my life both mentally and physically and I did not know how to cope with this disease. It wore me down. Unfortunately, I came to realize that there was no cure for eczema and that treatment strategies have not changed much in 20 years.
"Meeting other people
who don't let their skin get the best
of them will inspire you."
In 2003, I attended my first NEA Patient Conference in Washington, D.C. I was greeted by warm and caring people, who like me, faced the same eczema issues. I finally met people who knew what it was like to live with the daily challenges of severe eczema. I have attended every patient conference since then and am looking forward to the next one in Boston in 2014.
Since 2003 I have been an active member of the National Eczema Association (NEA). For me, the NEA Conference is about learning, socializing, and networking. The conference helps you develop relationships with people like yourself. The conference sessions also introduce you to healthcare professionals who specialize in eczema, like allergists and dermatologists, whom you may want to contact in the future.
When I needed it the most I found the National Eczema Association. I have been spreading awareness ever since, and I am so grateful for the NEA Patient Conference.
Learn more about the 2014 NEA Patient Conference >