Dear NEA Scratch Pad:
Several years ago, I was diagnosed with atopic dermatitis. The photo shows the rashes on my back, and there were similar rashes on most of the rest of my body. Fortunately I discovered that the problem was chloramine, a mixture of ammonia and chlorine that is used to disinfect the tap water in many areas of the United States (including the San Francisco Bay area, where I live). After I stopped using our water, my skin cleared up completely. I'm sure there are folks with similar problems who are not aware of this chemical and are suffering as a result. People can obtain more information from the web site www.chloramine.org. Thank you for publishing this; you may help solve a problem that for many is a mystery.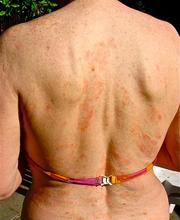 Beth Nord
Palo Alto, California
Do you have a story or tip to share about what's helped with your eczema? Email us your Scratch Pad tip so that we may publish it and help others!
The recommendations contained in the Scratch Pad are those of the contributor.  NEA provides health information from a variety of sources; this information is not intended as medical advice.  Persons with questions regarding specific symptoms or treatments should consult a professional health-care provider.