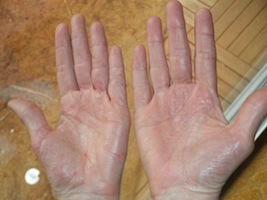 I just wanted to let you know that I have had eczema for 30 years and up until recently I was miserable. Then I went to my new General Practitioner and she had me take a typical blood test. It turned out my vitamin D level was really low, so she put me on a mega dose for eight weeks. After about seven weeks my skin started to clear up. So now I take 2,000 IUs of vitamin D everyday and I stay away from tomatoes and potatoes (due to food allergies). If I do these two things my skin stays perfectly clear. I'm wondering if maybe there are other people out there that are low in vitamin D. I hope this information helps someone else.

Wanda LaBerge
Nevada City, California
Do you have a story or tip to share about what's helped with your eczema? Email us your Scratch Pad tip so that we may publish it and help others!
The recommendations contained in the Scratch Pad are those of the contributor.  NEA provides health information from a variety of sources; this information is not intended as medical advice.  Persons with questions regarding specific symptoms or treatments should consult a professional health-care provider.
Please click here to return to the Scratch Pad main page