Eczema drugs go through a rigorous, multi-phase process before they are available to patients. Below is a description of drug development phases and a chart of current drugs in development for eczema/atopic dermatitis.
Phases in drug development:
| | |
| --- | --- |
| Phase I: Safety | Is it safe? Working with 20 to 100 healthy study participants, researchers evaluate safety, determine a safe dosage range, and identify side effects. |
| Phase II: Efficacy | Is it effective? Researchers test the drug on a larger group of people who have the disease in question to determine if the drug is effective and to further evaluate safety. |
| Phase III: Population | Is it effective and safe in large groups of people? Working with several hundred to several thousand patients, researchers work to gain a more thorough understanding of the drug's effectiveness, benefits, and possible side effects. |
| Filing: | Researchers file for FDA approval |
The research pipeline chart below identifies drugs being tested for eczema/atopic dermatitis. The information in this chart comes from public sources and is as comprehensive as we understand it at this time.
The pipeline includes drugs that are in progress, listing: drug candidate (name of the drug), phase of the study, mechanism of action (or how it works), route of administration, sponsor (drug company), and study location.
Sometimes a drug candidate has two names – the name that is used in the trial and then the brand name when it is approved. Often the name in the trial is a combination of letters and numbers to indicate the compound's name during development at the drug company.
Click image to view full size (opens in new window).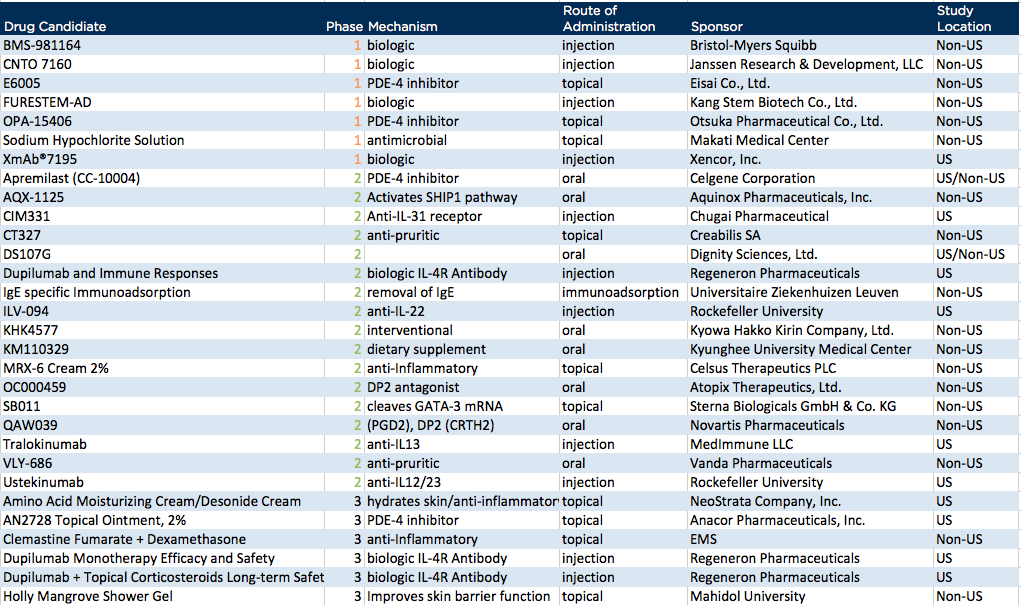 Note: Although some drugs are not currently being developed in the United States, new studies might begin in the United States at any time.