NEA asked these questions on Facebook recently: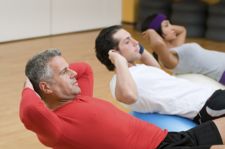 Having eczema and exercising can be tricky, due to sweat or increased body temperature triggering itch for some people. What are your tips for exercising while having eczema? What types of exercise work well for you/your child?
Here's what people had to say:
RW: It's extremely hard to exercise with eczema! I gave up exercising last year because it increased my flare-ups. This year, I have asked for an additional fan for the machine I work out on. That makes such a big difference. I also swim right after I work out and the water helps cool me down. Also, I think the swimming is good for a slight "bleach bath." I need to work out because it reduces the stress so much!
LH: I walk because I find it helps with my skin as it reduces stress and doesn't get me too sweaty.
MO: Barre classes! Gets the job done with little sweat!
AF: Showering and then moisturizing right after is the key. I want to control my eczema not let it control me.
CV: I use one of those cooling towels. It keeps your body cool and you can use it to wipe sweat.
AA: I do some light walking. It's a bummer because before I had flare-ups, I ran and did intense cardio. Now, when I sweat I get itchy. I am currently detoxing and my eczema is healing up nicely. The main culprits for my flare-ups have been dairy and gluten.
LM: Swimming!
YM: Yoga.
JP: I race in triathlons. I can tolerate Vaseline and giving my body a thin coat seems to help. The cycling doesn't cause me many problems and when running I under-dress to keep cool. Open water swimming if fine for me. In pools, I can only swim when my skin is good and I choose pools carefully. They all have different filter types.
MN: I find pool chlorine is similar to a bleach bath and clears my skin, but I have to make sure I shower after and then apply Vaseline all over.
AK: I sweat a lot more doing housework than when I exercise. I drink water consistently and have a cold shower right afterwards, and I put a few drops of tea tree oil in my lotion.
SK: My daughter is a true athlete and she struggles with sports. We've tried a lot, and swimming was the best, but if you are on a swim team, it is in/out of the pool constantly and that does not work. We will continue to try different indoor sports so that she can play, but will have to keep her cool and make sure she showers and moisturizes immediately afterward. I think this has been one of the toughest parts of having eczema as a child (besides lack of sleep): the inability to be out in the heat with friends and play most sports. Love the hope from reading other's ideas!
AP: I've begun showering at night and it helps a ton. I exercise later in the day, take a cool shower, sleep, and moisturize again when I wake up, and maybe once more during the day.
Join the conversation with people who understand: facebook.nationaleczema.org