Thank you to all who participated in this year's Itching for a Cure walk in LA!
More than 100 people across the US joined NEA either virtually or on the UCLA campus to raise over $65,000 to drive research and funding toward a cure for eczema. By stepping together, participants sent a powerful message that no one living with eczema is alone, that support and community are available through NEA, and that thanks to new therapies in development, a healthier and happier future is finally within reach.
Thank you for making NEA's 2016 Itching for a Cure walk a great success!
This year's superstar IFAC fundraisers who helped us reach our goals include: Ashley Blua, Keith Heeley, Diane Eggerman, Srobono Mitra, Jarrett's Jam Squad, and Peyton for a Cure. We also want to congratulate our 2016 Spirit of the Walk winners who helped lead the pack at UCLA –way to go, Jayden's Red Hot Chili Scratchers!
Even if you didn't participate in IFAC this year, you can help us keep the spirit of the walk going by visiting NEA's IFAC 2016 photo album on Facebook, and sharing your favorite photos and IFAC stories on your timeline.
Every step we take together helps improve the health and quality of life anyone living with eczema.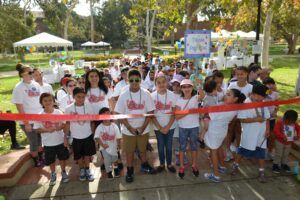 Spirit of the Walk Award Winners "Jayden's Red Hot Chili Scratchers" cut the starting ribbon!