By Debbie Byrnes
August 18, 2016 — Itching for a Cure (IFAC). It's a feel-good day surrounded by people who respect you for your perseverance. And it's the only walk for eczema and helps raise money for research, support, and education. This year, IFAC will take place on Sunday, October 2, in Los Angeles.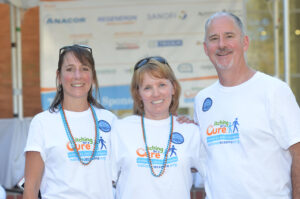 When I think of all the events I've attended through the National Eczema Association, the IFAC walks are definitely at the top of the list. The energy that radiates from the walkers is something that's hard to put into words. Everyone is smiling and having fun. No one seems like a stranger because it's so easy to talk to people. What better way to kick off Eczema Awareness Month than by orchestrating an annual walk through the middle of the UCLA campus? It's hard for people to miss the hoopla with the colorful banners, balloons, signs, music, and numerous sponsor tents.
When the ribbon is cut and the horn blows, people of all ages, dressed alike in their IFAC t-shirts, hit the pavement for the brisk walk through UCLA. The shirts tell our message, but the stories from the walkers and their family members run much deeper. When I look at the faces of some of the children it makes my heart break. You can tell how much pain they are in just by watching their actions. Hearing their parents' stories of sleepless nights and painful bath routines remind me of how cruel this disease can be. That is why we want people to know that we're uniting for a common cause — to find a cure for eczema!
IFAC fundraising walks help shine with light on this dreadful disease. Eczema sufferers have an opportunity to raise awareness about what it feels like to be itchy 24/7 with no end in sight. We can explain how eczema has changed our lives, by affecting relationships, jobs, where we live, our financial situation, and our general well-being.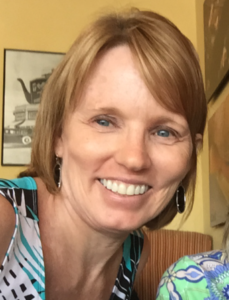 Please join me! If you live in or can come to Los Angeles, you can form your own team and walk with us. If you can't be with us in Los Angeles, you can also be a virtual walker. Or, you can support my Itching for a Cure team by making a donation.
I enjoy being with these people because they "get" me. They can relate when I talk about the itch coming from underneath my skin. By taking part in the walk, I have an opportunity to visit with friends I've made through NEA. Some of them have become my best friends. It doesn't matter that we live in different states, because we share something that other people wouldn't understand.
Even though my stay in California is very brief, I come back a different person. I feel energized and rejuvenated and more committed to continuing to fight this fight. I am reminded again how passionate I am about making my voice heard. By participating in the walks and allowing my friends and family to donate to the cause, I feel as though I've done my part.