Evidence Supports Probiotics, Like Florajen Eczema, Help in the Fight Against Eczema
PAID POST: The following content is paid for by an advertiser. NEA doesn't validate, endorse or fact check any claims made in paid advertising, nor is the content written by NEA.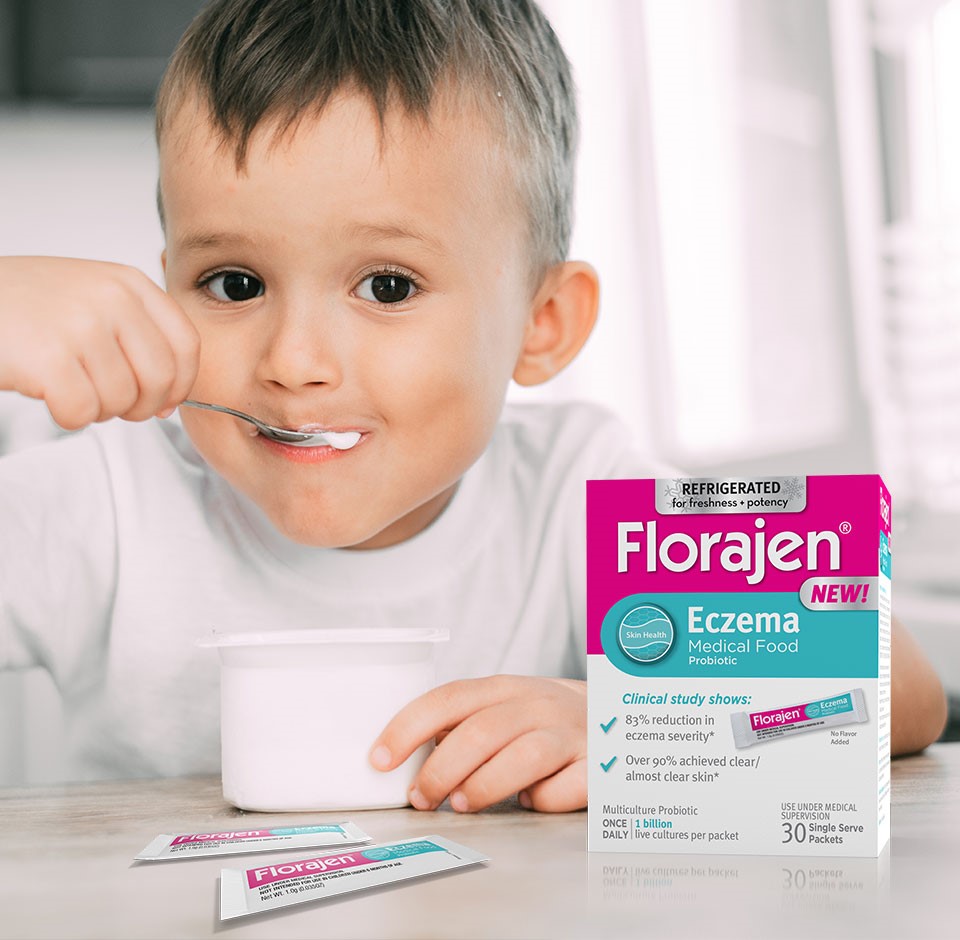 We know that approximately 10% of the American population experiences eczema and that rates of eczema among children are even higher (with up to 20% of children affected.) Such childhood numbers are particularly concerning because research and experts note that children, adolescents, and young adults with eczema often feel isolated from their peers. Worse, one in four children with eczema experiences bullying.
Fortunately, there is more we can do ⁠— without needing to rely on additional topical steroids or prescriptions.
Research increasingly supports the use of certain combinations of probiotic strains, like those in Florajen® Eczema, to help improve eczema symptoms, particularly in children.
In a clinical study, these probiotics were shown to:
Help 91% of children with eczema reach clear or almost clear skin after 12 weeks of daily use
Reduce children's eczema severity by 83%
Lead to a 28.7% reduction in topical steroid use. 1
Probiotics are beneficial bacteria taken in the form of supplements or food that can help stimulate the growth of "good" or helpful microorganism colonies in our bodies. They aim to bolster the beneficial bacteria in the human microbiome towards a natural balance.
Although it's not entirely understood why, certain skin conditions and allergic responses can be linked to shifts in the microbiome as part of what's called the gut-skin axis.2,4, 5 For example, researchers have found that people with eczema often have different bacteria in their GI systems compared to those without eczema. Along these lines, specific blends of "good" bacteria, experts say, can help improve eczema symptoms because there seems to be a connection between beneficial microbes in the gastrointestinal system, the regulation of inflammation and allergic responses and the skin.
While there is still more to learn about the influence microbes have on skin wellness and barrier function, there's strong data 1,2,3 supporting the use of the carefully selected probiotic strains in Florajen® Eczema to help manage eczema, especially in children.
By choosing Florajen® Eczema, you're choosing a probiotic that is:
Formulated with safe and effective probiotic strains that are specifically studied for the dietary management of eczema and have been shown to support clearer skin1,2;
Composed of strains backed by compelling evidence indicating they reduce eczema symptoms and can reduce topical steroid use1,2;
Designated a medical food aimed at meeting data-driven nutritional targets for eczema;
GRAS-certified (Generally Recognized As Safe) for children six months and older.
Florajen® Eczema is free from milk, eggs, fish, crustacean shellfish, tree nuts, peanuts, soy, coloring, flavoring, preservatives and is non-GMO, as well as Kosher.
Florajen Eczema is available at the Walgreens Pharmacy, for order on Amazon and through many of your local independent pharmacies.
References:
Navarro-López V, Ramírez-Boscá A, Ramón-Vidal D, et al. Effect of Oral Administration of a Mixture of Probiotic Strains on SCORAD Index and Use of Topical Steroids in Young Patients With Moderate Atopic Dermatitis: A Randomized Clinical Trial. JAMA Dermatol. 2018;154(1):37–43. doi:10.1001/jamadermatol.2017.3647
Tan‐Lim, CSC, Esteban‐Ipac, NAR, Mantaring, JBV, et al. Comparative effectiveness of probiotic strains for the treatment of pediatric atopic dermatitis: A systematic review and network meta‐analysis. Pediatr Allergy Immunol. 2021; 32: 124– 136. https://doi.org/10.1111/pai.13305
Hanifin JM, Reed ML; Eczema Prevalence and Impact Working Group. A population-based survey of eczema prevalence in the United States. Dermatitis. 2007 Jun;18(2):82-91. doi: 10.2310/6620.2007.06034. PMID: 17498413.
Jiang, W., Ni, B., Liu, Z. et al. The Role of Probiotics in the Prevention and Treatment of Atopic Dermatitis in Children: An Updated Systematic Review and Meta-Analysis of Randomized Controlled Trials. Pediatr Drugs 22, 535–549 (2020). https://doi.org/10.1007/s40272-020-00410-6
Ellis SR, Nguyen M, Vaughn AR, et al. The skin and gut microbiome and its role in common dermatologic conditions. Microorganisms. 2019;7(11):550. doi:10.3390/microorganisms7110550