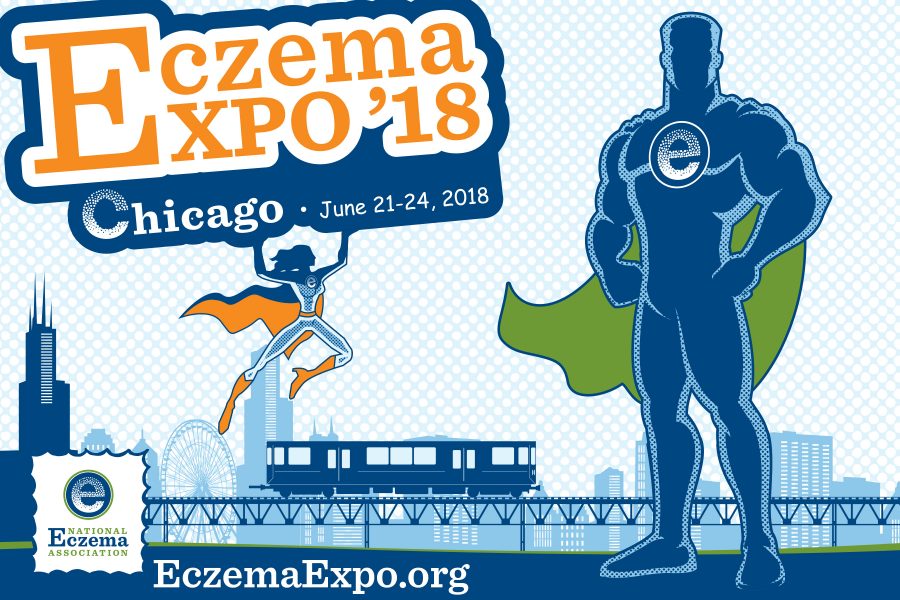 National Eczema Association awards a record number of scholarships to its 2018 health conference.
San Rafael, Calif. (May 10, 2018) — A 2017 survey by the National Eczema Association (NEA), revealed one in five people with eczema spend more than $200 a month on over-the-counter products and one in four spend more than $200 monthly on prescription medications to treat their disease. Because the cost of eczema treatment is significant for many, NEA provides quality disease education and services at little to no cost to their community. This includes Eczema Expo '18, the organization's biggest live health event, to be held in Chicago, June 21-24.
In keeping with its commitment to serve the eczema community regardless of financial status, NEA awarded a record number of scholarships to individuals and families to attend the Eczema Expo this year.
Eczema is the name for a group of conditions that cause the skin to become red, itchy and inflamed. People with eczema have an over-reactive immune system that produces inflammation when triggered by something outside the body such as chemicals and allergens or inside, such as hormones or infection. Though common, for the millions of Americans with the moderate to severe version of eczema, it is a serious, life-altering disease.
"Everybody affected by eczema should have access to disease education and support regardless of their situation. A solid understanding of the fundamentals of eczema is key to wellness," says Julie Block, President and CEO of the National Eczema Association. "That's why we made it a priority to award as many scholarships to attend our Eczema Expo as we could. As a result, 130 people who would otherwise not be able to join us, are headed to Chicago in June."
The only conference of its type in the U.S., the NEA Eczema Expo '18 features three days of the latest research and information on managing eczema to help participants live well with the disease. This four-day event features:
• Presentations from top providers in eczema care on a range of topics including caring for eczema skin, getting a good night's sleep and finding a treatment option that works for you
• Wellness sessions focused on allergy-friendly eating, natural and alternative eczema treatments, and tips to manage eczema through the different ages and stages of life
• A superhero-themed Kids' Camp; teen camp with retro bowling and empowering forums; parent, adult and teen support groups; early-morning yoga classes; and Saturday night dinner, DJ and dancing.
Deadline to register for the Eczema Expo is May 30. For more information or to register to attend, visit EczemaExpo.org.
The scholarships were made possible in part through generous support from the Carolyn and Tom Reese Scholarship Fund and the Jonathan Dahlgren Eczema Fund.
Thank you to our Expo '18 sponsor