Organic Virgin Coconut Oil, Soap Nuts
Dear NEA Scratch Pad: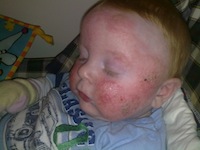 My son started with eczema on his face at only 3 months old. It started with a small patch on his cheek and just got worse and worse. We were under a doctor's care and making weekly visits where we were given different eczema creams and treatments to try. With just one application of creams, he would flare up. He seemed to be having reactions to the creams. He was distressed and so were we.
It was a process of inflammation, weeping, and scabbing over (and sometimes getting infected), then visiting the doctor the following week to be given yet another cream to try. Then the whole process would happen all over again. I eventually started to take photos for my doctor to see what was happening, because by the time we went back to the doctor the cream reaction couldn't be seen. Though these creams might help other people with eczema, they just weren't working for our son.
Eventually our son was referred to a Specialist Dermatologist where the diagnosis was seborrheic eczema. We were given yet more creams to which he had the same reaction. I started to suspect my son had sensitivity to certain ingredients. I began to search the Internet for something 100 percent pure and natural, and I found organic virgin coconut oil and soap nuts (a fruit, not a nut, that grows on the soapberry tree). I boil the nuts to make a soap nut liquid for my son's bath/shampoo/laundry. Since using these there has been a huge improvement in his skin! I have been using these for approximately 17 months now and I wouldn't be without them.
The organic virgin coconut oil is lovely on his skin and easy to apply with very little touching/rubbing. Since his first dermatology appointment, he's now been diagnosed with atopic dermatitis and dermographic urticaria. In addition to sensitivity to certain ingredients, the issue may also be the process of applying/rubbing creams onto his skin, since he flares up to the slightest touch with his dermographia. He has now been put on antihistamines to help so that his skin doesn't react to the slightest touch.
I look back at my son's photos and it's heartbreaking to think what he and we were going through back then. We sympathize with everyone going through the same thing. I know everyone's eczema is different, and something that helps one person may not help another, but I wanted to share this experience and the results we've had with our son. I have found so much support from other parents going through the same heartache with their children, and I would like to thank every one of them! All the best to you all!
Heidi Carolan
Hertfordshire, England
Do you have a story or tip to share about what's helped with your eczema? Email us your Scratch Pad tip so that we may publish it and help others!
The recommendations contained in the Scratch Pad are those of the contributor.  NEA provides health information from a variety of sources; this information is not intended as medical advice.  Persons with questions regarding specific symptoms or treatments should consult a professional health-care provider.
Please click here to return to the Scratch Pad main page