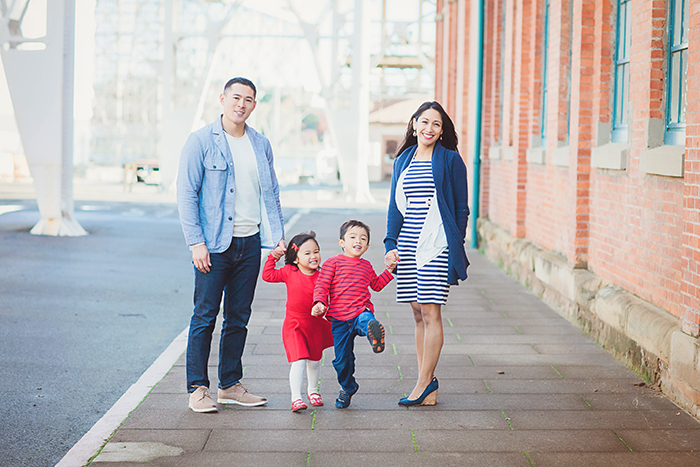 Atopic dermatitis runs in Anthony Trias' family. His mother has it, and so does his 6-year-old son Aiden. "The disease skipped me and our daughter, Avery, but it attacked Aiden soon after he was born," said Trias, who has moved heaven and earth to take care of his son ever since.
A lively kindergartner, Aiden has become more and more aware that he's different from the other children in his class.
"He notices it now when others want to refrain from socializing with him," Trias said. "He knows he has a problem, and he's able to share his feelings about it. And he's curious too: 'Why am I so itchy, Dad? Why is my skin all red and weird?' Luckily, I don't have to come up with answers to his questions all by myself."
Trias, a certified financial planner based in Northern California's Marin County, heard about the National Eczema Association (NEA) through a client – "a serendipitous but welcome accident," he said. NEA's Eczema: Tools for School kit helped him educate his son's principal and teachers, along with his friends, neighbors and fellow parents, about the disease, especially as it affects children.
Trias' client also helped him connect with NEA President and CEO Julie Block. "I learned that NEA is headquartered right in my backyard," Trias said "I was even able to meet with Julie for breakfast on a Sunday morning this past summer. That meeting meant a lot to our family, and it charged me up to do even more for my son and for others who have AD."
Going the extra mile for Aiden and NEA
Soon, Trias found a promising way to meld his longtime interest in fitness with his newfound philanthropic spirit. His gym-appropriately named Empower-was about to sponsor a contest. Several teams would vie for a cash gift to their chosen charity. But Trias couldn't participate due to a scheduling conflict.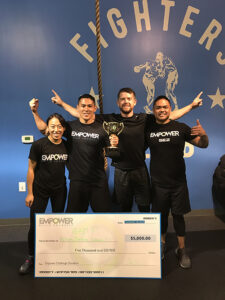 Then, serendipity struck again: The contest was postponed to Sept. 30, 2017, allowing Trias to say "yes" when one of the teams recruited him.
"I've been doing high-intensity interval training for some time, so I was prepared to compete," he said. "Several stations were set up, each requiring a different activity, including squats, push-ups and weight-lifting. The judges would track the number of repetitions each team racked up, and the team with the highest final total would win."
The last station was an uphill sprint, the activity that was weighted most heavily in the contest. "We had to run up one of the steepest hills in San Francisco," Trias recalled. As I stood there at the ready, I found the determination to pull through. I told myself that I had to do this for Aiden. And suddenly, I found the extra speed I needed to give my team a head start and the winning edge."
Trias' team was about to receive a check for $5,000, but its members hadn't chosen a charity yet. That's when he went the extra mile and proposed NEA as the recipient of the gift.
He promptly sent photos of Aiden to all his teammates, along with an explanation of the disease, a brief overview of Aiden's background and a deeply felt account of what it's like for an eczema family to deal with their child's suffering. He described the lack of effective treatments, the frequent lathering of creams and ointments, the sleepless nights and the worrisome days. In that moment, he became the best advocate a child could have.
Trias' team members didn't hesitate to adopt NEA as the recipient of their winnings. Since then, their new awareness of the disease has begun to ripple through the community. Trias found his own sense of empowerment that day, with a ripple effect in his life. NEA received a significant gift and a great bunch of new friends. In other words, everybody won!