Best Habits for Six-Year-Old Son
My six-year-old has experienced moderate to severe eczema since he was four weeks old. The worst of times seemed to be when he was 18 months to three and a half years old. In addition to steroid ointments, vigilant application of these habits gave him the best relief:
Bathe and moisturize daily! Fill up the tub and enjoy a 10 to 20 minute soak! When eczema is severe, add an emollient like Cutar, to the bath, and bathe several times per day if needed. Apply a thin to medium coat of moisturizer within three minutes of bathing to help seal in that moisture.
Add bleach to the bath once or twice a week to help kill any bacteria that may lead to a skin infection around the eczema site. Add ¼ to ½ cup bleach to one tub of water, and it's just like being in the swimming pool!
Deal with allergy issues. Blood work and skin prick tests confirmed our son's allergies to dust mites, grasses, pollen, and cat dander. His eczema improves when we use protective mattress covers, change the sheets twice a week during pollen season, and work with an immunologist for allergy shots.
Beware of temperature and humidity extremes. When the weather is really cold, we minimize time outside. When it is really hot and humid, we crank up the AC. During the winter a humidifier runs in our guy's bedroom and is cleaned daily. During the summer the dehumidifier is a constant fixture in our bedroom hallway.
Use a damp, cold washcloth to quickly relieve the itch. My six-year-old knows that when his hands itch uncontrollably, it is time for a cold compress.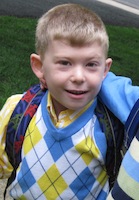 Beth Jenkins Smith
NEA Support Group Leader
Northern Viriginia
Do you have a story or tip to share about what's helped with your eczema? Email us your Scratch Pad tip so that we may publish it and help others!
The recommendations contained in the Scratch Pad are those of the contributor.  NEA provides health information from a variety of sources; this information is not intended as medical advice.  Persons with questions regarding specific symptoms or treatments should consult a professional health-care provider.