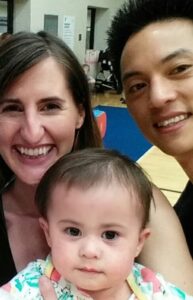 September 19, 2016 — When Gideon Park's young daughter developed eczema, his family looked high and low for answers. "It has been a long, confusing, and heartbreaking year of watching her itch; learning the ins and outs or triggers, trying all sorts of steroids, antihistamines, creams, soaps, and moisturizers; and negotiating conflicting advice."
At NEA, we know managing eczema can be overwhelming. While there's a lot of information out there, some of it is contradictory, or confusing, and or simply doesn't apply. So NEA asked our eczema community what would be most helpful –and, getting up-to-date information on the latest research and treatments came back as a top priority.
NEA Leaders in Eczema Forums are one way we're answering that call. These 1-day educational events provide an opportunity for individuals or caregivers of children living with eczema to come together and learn best eczema management practices from experts, get coping strategies, understand new developments in eczema research, and meet other patients, caregivers, and clinicians.
Gideon was one of more than 100 people who attended NEA's 2015 Leaders in Eczema Forums around the US, and found some of the hope and help he was looking for. "I am glad that there are competent and compassionate people who are leading the way. My entire family is grateful to NEA. This 1-day forum has given us more than a year's worth of doctor's visits."
Thanks to a grant from the Fondren Foundation, in 2015, NEA held forums in Minneapolis, MN, Nashville, TN, Orlando, FL, and Portland, OR. We covered topics you let us know were important, including basic skin care, the emotional impact of eczema, alternative treatments, and research on itch, eczema and allergies. Speakers included a diverse range of experts and advocates including dermatologists, nurses, social workers, researchers, and individuals living with eczema.
The next Leaders in Eczema forums will take place on October 29, at UCSF in San Francisco, CA and on December 3 at Houston Methodist Research Institute in Houston, TX. Click here to learn more and to register.
Together, we can continue to improve the health and quality of life of all individuals with eczema.