Baby Dove
Baby Dove Sensitive Moisture Lotion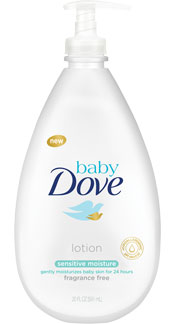 Baby Dove Sensitive Moisture Lotion gently moisturizes baby skin for up to 24 hours and soothes dry skin from the first use. Our formula is fragrance free, hypoallergenic, pH-neutral and is dermatologist and pediatrician-tested.
Did you know your little one's skin can lose essential nutrients and moisture in the bath? Our baby lotion is ideal for daily use, formulated for sensitive skin and perfect for use after bath time to leave your baby's delicate skin soft and well moisturized.
Seal of Acceptance Rating: 4 out of 5 * * * * 
This product may contain potential irritants at concentration levels thought to be insignificant for most patients. The manufacturer has provided extensive testing and sensitivity data to determine acceptability. These ingredients are phenoxyethanoll and sodium benzoate.
---
For more information, please visit www.babydove.com