BabySpa®
BabySpa® Calming Eczema Relief Cream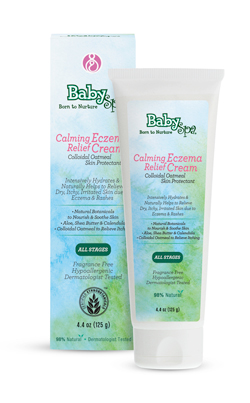 Intensively soothing and hydrating, our Calming Eczema Relief Cream provides immediate comfort to eczema-prone baby skin. Specially formulated with Colloidal Oatmeal, our skin-conditioning blend helps to protect and relieve dry & itchy patches. Vitamin-rich oils of Jojoba and Calendula are combined with Shea Butter, Aloe, and Chamomile to naturally soothe irritated skin for a calming and refreshing feel. Our ultra-mild and fragrance-free formula also contains a Botanical Allantoin extract, to nourish sensitive skin and provide a healthy, supple feel.
Seal of Acceptance Rating: 4 out of 5 * * * *
This product contains Racemosa Root extract (black cohosh), which may have a systemic hormonal effect. Given that this may be placed on open skin in a baby/child there is the theoretical risk of systemic effects. The product also contains Bisabolol- also a sesquiterpene lactone that is a sensitizer/allergen.
For more information, please visit www.babyspausa.com