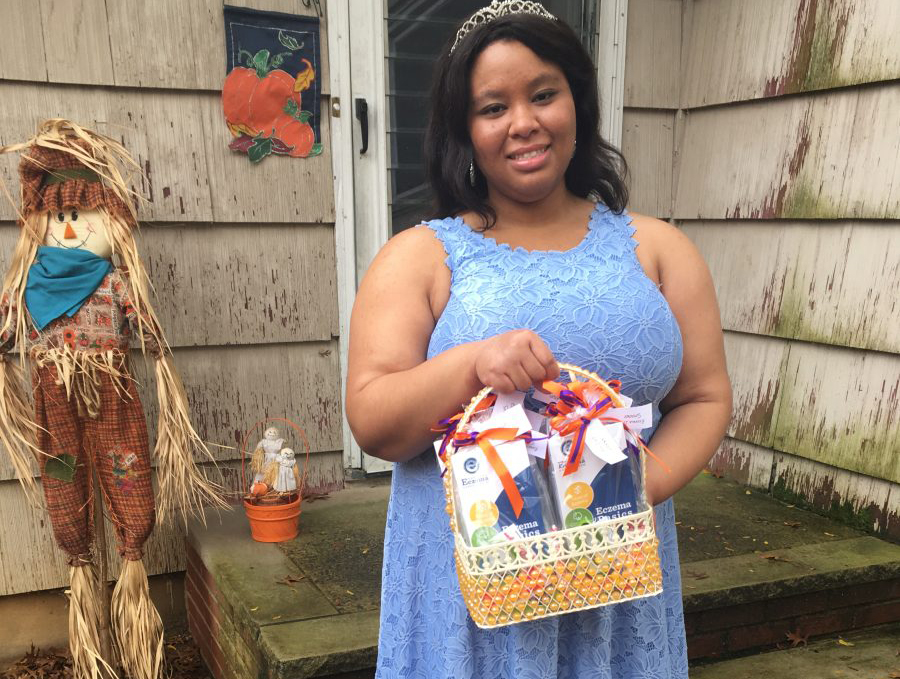 Talk about problem-solving! Eczema warrior Morgan Brunson scored a win when she conceived a way to combine several unrelated goals.
It all started when she snagged the title of "City Queen," making her a finalist in the National All-American Miss pageant. The competition was held in Anaheim, California—home to Disneyland Park—during Thanksgiving week.
But there's another less rosy side to Brunson's story. The 22-year-old from Tinton Falls, New Jersey, was diagnosed with psoriasis at 18 and with eczema a year later.
She's one of a relatively small group of people who has both skin diseases, including not one, but two types of eczema: atopic dermatitis (AD) and seborrheic dermatitis, which affects her scalp. Add psoriasis into the mix, and Brunson has a heavier burden to carry than most of her peers can imagine.
With no family history of either condition, Brunson was taken by surprise when her skin erupted during her teens. Since then, she has been educating herself about eczema and psoriasis and finding her way toward a self-care regimen that works.
And she finally found one: Tacrolimus ointment, along with positive changes in her diet, exercise routine and sleep habits, has been keeping Brunson's flare-ups under good control.
Brunson graduated from Ithaca College in May 2019 with a major in sociology and a minor in theater. Like many college grads, she finds herself at a crossroads, asking questions like, "What should I do next? Where is my life heading? How can I use my education to make a difference in the world?"
And then opportunity knocks
When Eczema Awareness Month rolled around in October, Brunson decided the time was right to step up her eczema warrior game. Her first task was to come up with an idea for a community service project focused on eczema education for children and families.
"In the fall, community interaction is usually at its highest on Halloween," she said. "I decided to create and fill one hundred trick-or-treat bags with eczema awareness materials, including brochures, stickers, wristbands and NEA business cards. And, of course, I tossed in plenty of allergen-free candy to sweeten the deal!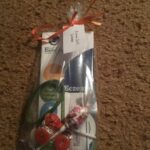 "I never saw anything about eczema when I was a kid," she continued. "Halloween gave me the opportunity I needed to provide people in the community with eczema information and spread the word about a disease that is still under-recognized."
Eczema Awareness Month also prompted Brunson to create an Instagram account, @Miss_Invisible_Illness, where she'll continue her public education efforts.
Bringing it all together
The National All-American Miss pageant is part of a larger group of competitions under the rubric of National American Miss, Inc., which aims to empower girls and young women.
Unlike the typical beauty pageant, National All-American Miss doesn't have a swimsuit competition, nor does it focus on "beauty" unless you define it as "inner beauty," Brunson explained. "It's about who you are."
And there isn't just one winner. Several contestants are named as queens in each of several concurrent competitions. Those selected benefit from the program's scholarship and career development offerings, including help with the nuts and bolts of any job search nowadays: the all-important resume and cover letter.
Brunson earned distinction at the local level for what the judges saw as her leadership potential and the creativity of her community service project—bringing awareness to life with eczema and psoriasis, and using Halloween as a springboard for community education.
She plans to feature eczema awareness in a public speaking contest, also held in Anaheim right before Thanksgiving. "I'm entering that contest just for fun," she said.
If only all chronic diseases had such passionate and creative public awareness campaigners.  We can't wait to see what Brunson does next.