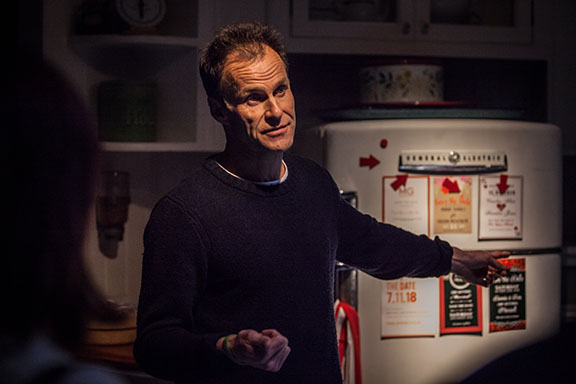 For people with moderate to severe atopic dermatitis (AD) – the most the most common, but difficult-to-treat type of eczema – home may be where the heart is, but it's also full of triggers.
No matter how many times you vacuum the living room, pet dander still lurks in the air. You want your clothes to be clean but worry about how your skin will react to the harsh detergents in your laundry room. And in the wintertime, the dry indoor air can wreak havoc on your skin. In other words, if you're living with AD, it can feel as though there is no escaping this disease-not even in the comfort of your own home.

On Oct. 26, 2017, a group convened by the National Eczema Association (NEA) took a tour of a movie set in New York City designed to simulate a Manhattan apartment. The video shot there is the centerpiece of the awareness program titled Understand AD: A Day in the Life.
Host Peter Moffat, the eczema community's newest champion and the man behind BBC's "Criminal Justice," which inspired the popular HBO mini-series "The Night Of," scripted the video depiction of daily life inside the home for people with AD.
Leading his guests from room to room, Moffat drew the group's attention to small, revealing clues such as a shelf containing a spectacular number of lotions and ointments and a big jug of bleach by the bathtub.
"Newcomers to AD report being shocked by the sight of the actress in our video pouring bleach into her bathwater and by another scene of her scratching her inflamed skin with a hairbrush," he said. "Good! We want to shock people out of their complacency."
Moffat, who has had moderate to severe AD since childhood, is passionate about clearing up common misunderstandings, reducing stigma and fostering empathy for people with the disease. He has already been advancing these goals indirectly through "Criminal Justice" and its American counterpart "The Night Of," in which John Turturro plays a down-on-his-luck lawyer with eczema (see "The itch to write" in the Winter 2017 issue of Eczema Matters).
Now, he feels the time is right to bring AD out of the shadows, especially in light of the phenomenal advancements happening in eczema research and treatments.
Moffat joined forces with Sanofi US and Regeneron Pharmaceuticals, Inc.-the sponsors of Understand AD-and with NEA in a program to raise public awareness.
NEA President and CEO Julie Block, who attended the Oct. 26 event, sees the program as a watershed moment. "We've worked hard to educate, motivate and inspire our own community. But we've never engaged the public in this way before.
"The new program is doing just that, and it's also encouraging people who have been suffering in silence for years to come out of hiding and consult a dermatologist, join an online community and become 'eczema wise.' It's a time of real hope!"
The time has come to start a new conversation about eczema…
For those with the disease, hearing people refer to eczema as "just a skin condition" is among the most frustrating in a long list of misconceptions, second only to the false belief that it's contagious. In reality, eczema is a serious disease that affects approximately 30 million people in the U.S., with 1.6 million experiencing moderate to severe AD that is uncontrolled by topical treatments.
As the creative force behind the Understand AD program, Moffat said he wants to start a conversation that will shake up the status quo so that no one will continue to underestimate the disease or stigmatize the people who have it. The conversation he envisions will change minds and hearts by engaging the media, schools, the health care establishment, our elected officials and the public at large.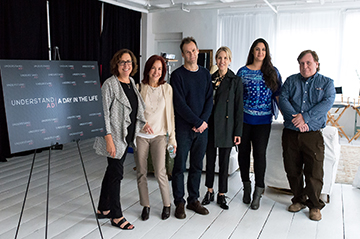 During an hour-long exchange following the tour, several members of the eczema community shared their stories, each one unique. For instance, Mark Erb, a retired IT professional who lives a couple of miles from the ocean in Toms River, New Jersey, has had AD all his life.
"When I was a kid, I had a big patch of eczema on my forehead," he said. "Other kids would run away from me, shouting 'monster!' We tried calamine lotion, A&D cream and all kinds of other topical treatments, but nothing worked. I was in my thirties before I started doing steroid treatments.
"I became more and more of a loner as the years went by, even though I'm basically very social," Erb continued. Self-consciousness became his constant companion. "I'd always put my hands in my pockets or underneath the table when out with friends."
Stress has been a major driver of Erb's disease. And stress, according to Sarah O'Donnell, was a major culprit in her father, Don Young's late-onset AD as well. She emphasized the word "was," because Young, now in his eighties, has experienced a dramatic lessening of symptoms-a fact he credits mainly to retirement.
Young had an exceptionally severe case, with angry rashes covering his entire face and body. Soon after his first outbreak at age 55, a series of Staphylococcus aureus (or staph) infections landed him in the hospital for several months.
"But his fighting spirit got him through that crisis," O'Donnell said, referring not only to his character but to the qualities of energy and determination that made him so successful during his career as a trial lawyer. "There's no doubt in my mind that frequent travel and having to argue high-profile cases were exacerbating factors in his AD.
"My father is an exceptional role model," she added. "He never complains, and he never gives up. As a member of NEA's Board of Directors, he's excited about the new approaches to treating AD, which have been a long time coming. At the same time, he's concerned about whether people are getting adequate medical care.
"Our whole family is totally committed to NEA's advocacy efforts," O'Donnell said. "We've got to do everything possible to make sure treatments are affordable and available to all the people who need them."
Ivey Chazen says her son, Jake, is one of the lucky ones. After years of debilitating AD, the young man entered a clinical trial. That was two years ago. Within a month, Chazen reported, his life changed dramatically.
"Before, he'd take burning hot showers four times a night," she said. "That was the only relief he could get, even though he was told not to do it. He never slept. Now, we all sleep through the night."
The greatest gift of all, she said, is not having to see him suffer. "I thought I'd develop a tic from turning my head to watch him all the time." Still, for this devoted parent, the sense of helplessness described by so many members of eczema families has been relieved, and she sleeps better knowing that people's understanding of this disease grows every day.
… And to stop hiding our atopic dermatitis symptoms
The conversation Moffat has started is like a tapestry woven out of many disparate threads. The larger story is made up of countless small details that burden the lives of people with AD.
"Having AD is hard work," Moffat said. "For one, you're always trying to hide it. You wear dark clothes to camouflage the blood stains and long sleeves to hide your inflamed skin."
It's hard enough to have the disease, but it's doubly hard to have to worry all the time about other people's negative reactions to it, he added. "Why even feel the need to cover up?" Moffat asked. "We shouldn't have to. People become socially isolated, depressed and lonely, and they're made lonelier by the fact that the world doesn't understand."
And the itch! As Erb described, "Sometimes the itch was so bad I couldn't think. The only thing you can think about is the itch."
Moffat doesn't shy away from telling it like it is. A former trial attorney in the U.K. who is a master of vivid language in the best British tradition, he uses his verbal gifts to penetrate the fog of human ignorance and indifference.
Moffat encourages all of us in the eczema community to follow suit and tell our stories openly and honestly, sparing no detail no matter how shocking.
"Let's be brave enough to give people images of what it's really like when the disease gets bad," he said. "Here's one of mine: Sometimes the skin on my feet looks like mashed up cornflakes with blood and pus mixed in.
"I don't wish anyone to suffer in silence," he said. Thanks to Moffat, the sponsors of the Understand AD campaign and NEA, the time for silence is over.
For more information about the Understand AD: A Day in the Life program, visit www.UnderstandAD.com.