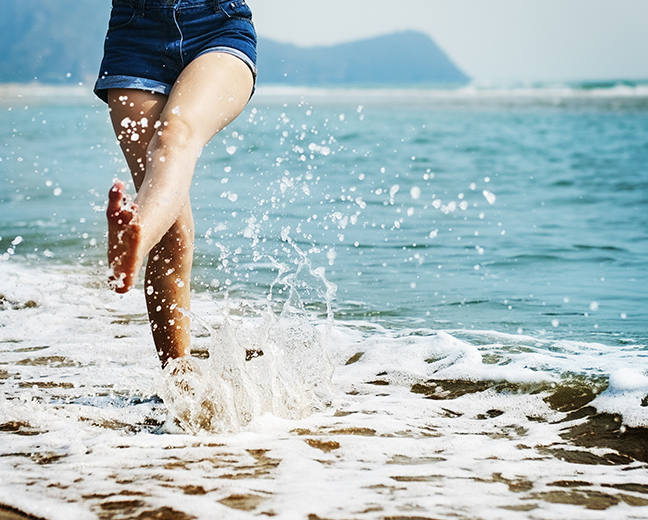 Some people ask me, "What is eczema?" To me, it's dealing with embarrassment, itchiness, struggle, fear and many other emotions. But after living with eczema for a year, I've finally come to my senses: It's OK to not feel ashamed of your eczema or embarrassed by it!
At first, my eczema was a constant itch I dealt with every day. I'd look at my skin and think, "What am I going to wear today to cover up this mess?" July 2016 was my first trip to the dermatologist, thinking it was something simple like a rash—until I found out it was something that would never go away.

Then came months and months of trying different lotions and ointments. In March 2017, after multiple attempts at trying different treatments, I gave up. I finally said to myself, "Enough is enough! Why am I paying for all these different treatments when none of these are working?" So, I stopped.
Step 1: Acceptance
Then April came around, and I knew the summer would be here before we knew it. I didn't want a repeat of having to hide my skin all summer long. When I found out I had eczema I thought to myself, "I am never going to the beach with my skin looking like this!" And I didn't at first. Now I am ready for the summer and my skin is too!
I came to a realization that I needed to just see what works best for me and figure out what was going to help clear my skin up as much as possible. God gave me this challenge, and I accepted it. Now I am learning how to conquer this battle.
After spending hours online researching what methods I could use for myself—and asking others with eczema what they have tried—I finally found what works best for me! Yes, it took a year, but I am happy!
Step 2: Skin Care
I started using Aveeno and Cetaphil soaps and moisturizers. They have made such a difference on my skin. Every morning, I use the soaps in the shower and moisturize afterward. Then I moisturize again before bed.
If you have eczema like me, I want you to know that you are not alone, and there is nothing to be ashamed of. Yes, not every day is perfect. But I am not ashamed of my eczema, and no one ever should be. You are not the only one with this problem, and you are going to try things that work for you to help you get through your everyday life with no more embarrassment!
There is a quote I saw online, and I want to share it here. "I may have eczema, but eczema does not have me." This quote inspired me and gave me hope when I first started my eczema journey. I hope it does the same for you.