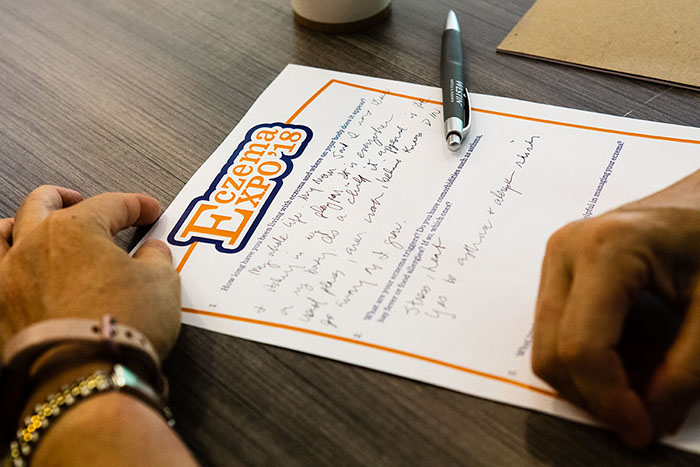 You know that wave of relief that washes over you when you finally share your feelings after keeping them bottled inside for a long time?
Whether you talk about it with a confidant or simply write it down on paper, getting those thoughts and feelings out of your system is like a weight being lifted off your chest. It can help you feel better mentally. It can help you feel better emotionally. And, as it turns out, it can even help you feel better physically.
Studies conducted at the University of Texas, Syracuse University and other research institutions have found that writing about emotions and stress can boost immune functioning in people living with chronic diseases, especially inflammatory conditions such as eczema.
Scientists long ago identified the psychological and physiological benefits of journaling. It helps relieve anxiety, stress and depression—three very common side effects of life with eczema. It helps you rebuild your self-esteem and confidence, especially those with skin conditions that sometimes cause strangers to stare or make ignorant remarks.
Those who write about their eczema feel happier and healthier
Writing to identify your feelings and emotions about something helps you address places, events or situations that caused you grief so that you can put them past you and move on. It also enables you to chart your progress on your journey to happier, healthier you. When you revisit what you wrote years down the line, you'll be amazed by the progress you made since the first time you wrote about it.
Take, for example, Eczema Warrior Jennifer Jenkins, also known as The Allergista. "In 2010, my world was turned upside down as my skin descended into an itchy, oozy unbearable mess. Doctors figured out that I had become allergic to 24 different things," she writes on her blog. "Fast forward to now, and my life is pretty awesome (and rather normal)."
Jenkins knows firsthand the healing benefits of sharing her eczema journey. It empowered her to take charge of her disease, track her progress, and figure out what helped and what didn't. It gave her an outlet to share her victories and frustrations with her followers. And it served as a powerful reminder that she was not alone in her eczema journey—that there are thousands of people just like her going through the same struggle.
Sharing your eczema story doesn't just help you, it helps us all
Even though eczema is among the most common skin conditions, affecting one out of every 10 people in the world, it's one of the loneliest diseases known to man. You think you're the only person who has it—or at least it feels that way since nobody ever talks about it. And you never know if the person next to you has it—unless they're brave enough to show their skin.
The longer eczema stays hidden from the public eye, the longer it will take to fight the stigma surrounding this disease. Only when people are willing to speak up and talk about their eczema can we begin to take a stand against the unwarranted stares, the ignorant remarks, the bullying at school or the loneliness at home.
By sharing your story with NEA, you're not only boosting public awareness, you're letting others with eczema know that they're not alone.
Trust us, you don't have to be a professional writer to reap the mental, emotional and physical benefits of writing about your eczema journey and sharing it with others. Don't worry about spelling, grammar or constructing the perfect sentence. Free-flow writing—or writing things down as they come up in your mind—will bring forth that feeling of catharsis we mentioned earlier.
To learn more about sharing your story with NEA, click here to get started. Together, we can #unhideECZEMA once and for all.