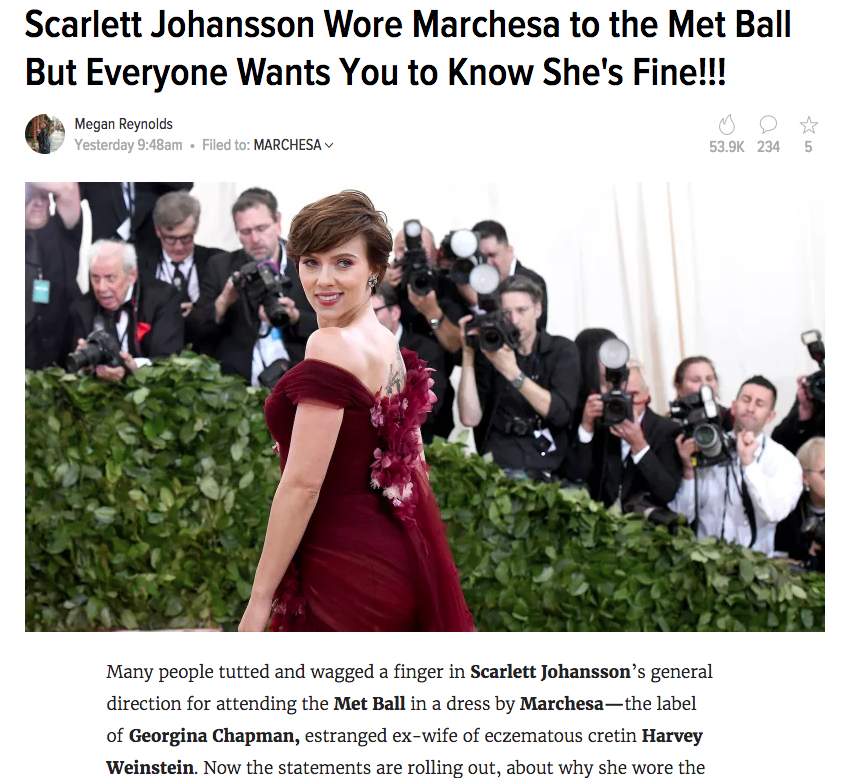 Words have power. It is our responsibility to use them accurately to empower and not tear down already disenfranchised communities like people with chronic health conditions such as eczema.
As writers, it is our job to ensure our words, while descriptive, are accurate. In the article on May 10th – "Scarlett Johansson Wore Marchesa to the Met Ball But Everyone Wants You to Know She's Fine!!!" you, Megan Reynolds, as a writer for Jezebel, described alleged sexual predator Harvey Weinstein as "eczematous."
In using this word did you mean Mr. Weinstein actually has eczema?
Perhaps you meant that Mr. Weinstein himself is a skin disease that impacts over 10% of all Americans?
Or possibly you were referring to his disgusting behavior as though it is the same as this clearly "disgusting" disease?
Maybe its meaning was that sexual harassment and abuse is irritating like the itchy rash of eczema.
Regardless of your intended meaning, what you've done is placed millions of Americans, who are already struggling with self-esteem, health and body issues, in a category with an accused sexual predator. This description adds to the disenfranchisement of the women who have suffered at the hands of Mr. Weinstein, and the over 30 million people living with eczema.
On behalf of the millions of Americans with eczema, and the letters we received in outrage, I want to impress upon you that this is a life-changing disease – one that is unpredictable, uncomfortable and often uncontrollable, with profound medical, psychosocial, and economic impacts on patients, families, and their communities.
Clearly you are concerned with disenfranchising the women abused by Mr. Weinstein, as evidenced by the fact that you are calling out Ms. Johansson for wearing his ex-wife's label. We ask that you similarly consider how your powerful words equally disenfranchise those with eczema.
Eczema is not contagious, and yet nearly half of people with moderate to severe atopic dermatitis (AD) (the most common form of eczema) report that their disease interferes with their social life, intimate relations and relationship with their spouse and children. One third of adults with AD report anxiety and depression, and one in five children face bullying because of their disease.
When the sitcom "Kevin Can Wait" made eczema a punchline, we punched back with this open letter, explaining why eczema is no joke.
The next time you write an article that includes a medical condition as a descriptor, I encourage you to do some research on that particular disease. The information you find may dissuade you from writing another comparison that leaves millions feeling ostracized and associated with sexual predators. Words have power – use yours for good.
Sincerely,
Julie Block
President and CEO
National Eczema Association