Controlling Eczema by Moisturizing
Keeping your skin's moisture intact is one of the most important things you can do to help control your eczema.
Moisturizers helps protect the outermost layer of skin known as the stratum corneum or skin barrier. People living with eczema have a damaged skin barrier, which makes their skin more sensitive to irritants, allergens, bacteria and other invaders. A damaged skin barrier also make it harder for the skin to retain water, leading to chronic dry, itchy skin, which can cause eczema to flare or get worse.
Wind, low humidity, cold temperatures, harsh soaps and prolonged exposure to water, all lead to dry skin. So, it's important to understand how and when to properly moisturize and which products are best to use when you have eczema.
Some things to remember when moisturizing:
If you use a prescription topical medication, apply it as directed, before you moisturize.
Apply a thick layer of moisturizer all over your skin within three minutes of bathing or showering to "lock in" moisture and protect the skin barrier.
Moisturizers that are fragrance and dye-free are the safest and least irritating.
Prevent contamination by using a clean implement rather than your hands to remove moisturizer from the container.
Soften moisturizer by rubbing it between your hands and then apply it to your body using the palm, in downward strokes. Avoid rubbing in the moisturizer by stroking up and down, or in circles.
If the moisturizer feels "tacky" on your skin, don't remove the excess. It will be absorbed within a few minutes.
Moisturize hands every time you wash them or when they come into contact with water.
Why is it so important to moisturize after a bath or shower?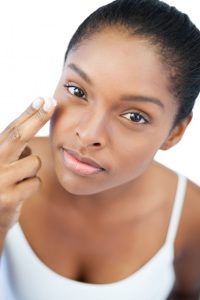 Water is an effective way to put moisture back into the skin, but only if you use lukewarm (not hot) water, avoid scrubbing and apply a moisturizer within three minutes after bathing or showering. This last step very important — if you don't moisturize immediately afterward, the moisture your skin needs will evaporate and may cause a rebound effect making the skin even more dry.
What kinds of moisturizers are most effective for my eczema?
Not all moisturizers are created equal. In fact, there are many types of common moisturizers that aren't good at helping control your eczema and may even make it flare or get worse. It's important to understand the differences between the three basic types of moisturizers — ointments, creams, and lotions — so that you can properly hydrate your skin and help keep your symptoms under control.
Moisturizers are classified based on the amount of oil and water they contain. The more oil in a moisturizer, the better it usually is at treating eczema. The best moisturizers to use are the ones that feel "greasy" (ointments and creams), because they contain more oil. These are very effective at keeping moisture in and irritants out.
All moisturizers should also be applied to your hands immediately after washing and gently blotting them dry. For this reason, it's a good idea to keep moisturizer near every sink in your home and carry a small tube with you at all times, so that you can reapply it throughout the day.
Ointments
Ointments are usually the first choice for eczema treatment. They have the highest oil content of all the products (followed by creams and then lotions), so they don't generally burn when they're applied to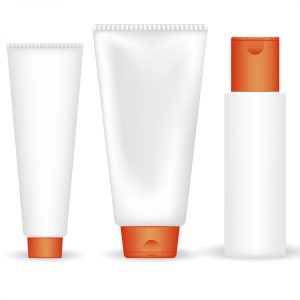 sensitive skin and are very good at sealing in moisture.
Products high in oil content, such as petroleum jelly and mineral oil, are particularly good for treating eczema. But if you don't like the way petroleum jelly, mineral oil or other ointments feels on your skin, the next best alternative is a cream.
Creams
Creams are second to ointments in the amount of oil they contain and are also very good at sealing in moisture. Because they contain less oil, they are also less greasy to the touch. Be sure to read labels carefully — creams sometimes contain stabilizers or preservatives that can irritate your skin.
Lotions
These contain the least amount of oil. Because they are primarily made of water, lotions evaporate quickly and may contain preservatives that burn when applied to skin that's scratched or broken.
If your skin stings or burns after you apply a moisturizer, switching to an ointment may help.
Skin barrier creams
Skin barrier creams are infused with lipids and ceramides, which are naturally occurring substances found in healthy skin barriers.
Lipids make up the building blocks of the structure and function of living cells. Ceramides are naturally occurring lipids in our skin that consist of an oily wax that forms a barrier in our stratum corneum.
The lipids and ceramides found in skin barrier moisturizers form a protective layer on the skin to help lock in moisture while keeping out impurities. This allows eczema skin to heal and become more resistant to symptoms, including burning, dryness and itch.
Apply skin barrier creams only to the skin affected by eczema and under the direction of a qualified health care provider.
Skin barrier creams are available by prescription and over-the-counter.
Tips on choosing a moisturizer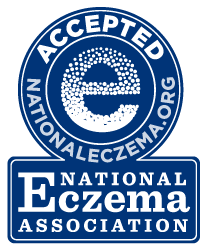 Finding a moisturizer that works can be a challenge. What works for one person may not work for another. As the condition of your skin changes so can the effectiveness of a product. A manufacturer may also change the formulation of a product from one year to the next. The best eczema lotion, cream or moisturizer is the one that works for you.
Take the following steps when introducing a new product to your skin:
If you know you are allergic to a particular ingredient, check a product's label before you buy it.
Review the list of moisturizers that have received the National Eczema Association Seal of Acceptance™ to see if the product you are interested in is on it.
The first time you use a new product apply a small amount (about the size of a pea) to the pulse of your wrist or the crook of your elbow. Do not wash the area for 24 to 48 hours and watch for any allergic reaction, such as redness, a rash, any form of breakouts on the skin, itchiness, pain, or flaking.
NEA's Seal of Acceptance Product Directory will help you find eczema-specific moisturizers and commercial wet wraps that help with symptoms.